RELEASED
Featured here, are all the kangaroos and wallabies (31 thus far), who have been soft-released back into the wild. May they live long and prosper!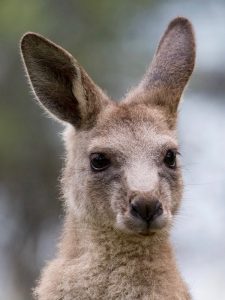 Brutus

Released June 2018
Beautiful Brutus. Never has a joey given so much love in return for the love we bestowed on him. Full of soul, depth, and a wisdom beyond his years, is our beloved Brutus. Originally rescued when spotted harassing a large male, trying to get in his non-existent pouch at Bawley Point, Brutus arrived on Halloween 2017, just 20mins before his buddy Pluto, weighing 2.06kg. Always strong and healthy in care, we hope that Brutus will become an alpha male in time… many kangaroos would benefit from his leadership.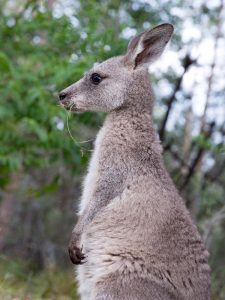 Frankie

Released June 2018
You may have heard stories about joeys with broken bones and how they must be euthanised. If that were true, Frankie wouldn't be here today, given he smashed both feet across the growth plates. Thanks to Southern Cross Wildlife Care, Frankie was back on his feet in just two weeks, and is hopping with the best of them today. Yet another car accident orphan, Frankie is safe from cars here, wild and free forever now.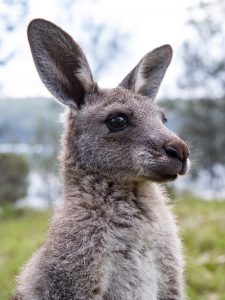 Bugsy

Released June 2018
The youngest in his mob, we were surprised when Bugsy suddenly blossomed and decided to soft-release himself. He was a difficult joey to care for in the early stages, he wasn't congenitally 'right' on arrival with kinks in his tail, unable to hop properly and an odd shaped body, but Bugsy just thrived and thrived until he suddenly looked like a normal joey. Found abandoned at Lake Conjola Caravan Park, Bugsy's mother may have died from illness or poor conditions, like many of the kangaroos fed by members of the public. There's no fear of people feeding you bread and pizza here Bugaroony.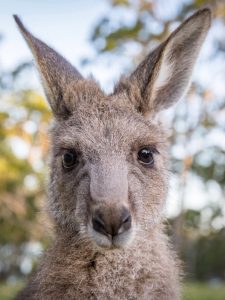 Venus

Released June 2018
Originally found by a fireman in Bodalla, when he spotted a wedge-tailed eagle sitting on her shot-dead mother, Venus is definitely lucky to be alive today, rather than becoming the eagle's dinner. Nicknamed "Kissy-Face" for her obsession of licking our lips and often insisting on it, don't think that Venus is soft because of that. She's strong, tall, confident and very healthy. And loving of course. A potential matriarch in the making, who will certainly do fabulous things out there in the wild.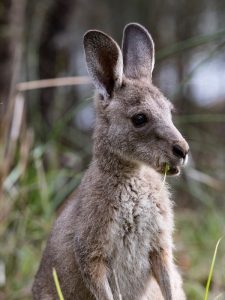 Pluto

Released June 2018
Being one of the youngest and smallest in his mob, was no excuse for Pluto not to decide to soft-release himself, helped partly by his older buddy Jess no doubt , who he spent many hours with whilst practising his bush skills. He arrived in October 2017, just 20 minutes after Brutus arrived. Both the same age, they spent their early months together, before Pluto decided some of the other joeys were more to his liking. A car accident orphan, Pluto has no fear of the same fate living here, safe… wild and free forever.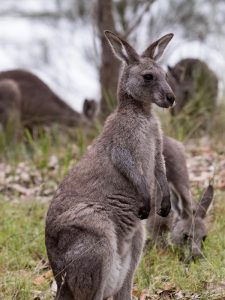 Jess

Released June 2018
Another car accident orphan, Jess broke her foot at the time and it healed incorrectly by the local vet, and had to get re-broken and fixed properly by Dr Howard Ralph at Southern Cross Wildlife Care. Thanks to him, Jess can hop perfectly now and is agile and speedy. In fact, her favourite activity was to go on long hops across the grass back and forth on her own. Extremely sick over Summer 2017, Jess overcame Babesiosis and is now strong, healthy and happy – you can see the happiness on her face daily. She's going to thrive even further out there.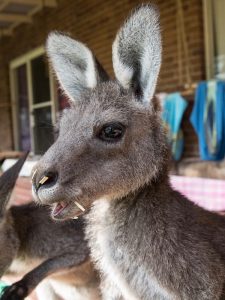 Juno

Released June 2018
Held by a well-meaning member of the public until she got bad poop and was surrendered to a wildlife group, Juno was yet another victim of a car accident. Her release is extra special, because Juno was certainly only a day or two from death back in Summer 2017. She had Babesiosis, a parasite transmitted through ticks which feeds on blood causing anemia. Thankfully, Juno's will to live (and medication) got her through, and after a slow recovery, she thrived again. Her "pat me, no don't pat me", "love me, no don't love me" "gimme bottle now" personality will be missed.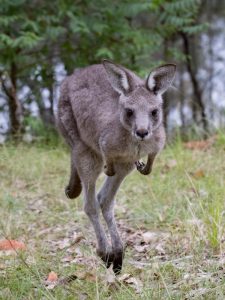 Lily

Released June 2018
Car accident orphan Lily has been in care since she was a 715g pinky (furless). She arrived here with friends Autumn, Maple and Storm in Aug 2017 when she was 2.5kg. A small stature joey, what Lily lacks in size she makes up for in attitude. She's super-bossy and play time with other joeys for her, gets serious – she kicks hard! Lily will play nice and loves to be loved, just don't cross her. Little Lily, what a delight you have been to us whilst in care. There's no other quite like you, which other joeys are probably okay with. There's only enough space for one Lily in your life.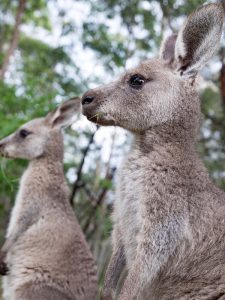 Storm

Released June 2018
One of the oldest in her mob, Storm has been in care a long time. Since May 2017 in fact, when she was just a 738gr pinky (furless). She was orphaned due to an ill mother, but one wouldn't know it, because Storm is one of the strongest and healthiest joeys in the group. Did her mother give her every bit of immunity she had left perhaps? We'll never know, but thanks to that and good care throughout, Storm is in a wonderful position to thrive out there in the real world. Welcome home any time she needs, for food, reassurance or rest. Soft-release is a wonderful thing.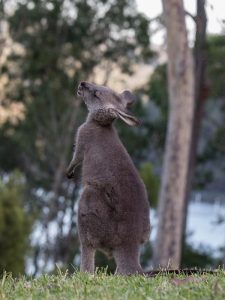 Rufus

Released June 2018
Rufus is a shooting orphan and arrived in October 2017, highly stressed. He remained an on-edge joey in care, always ready to hop fast to safety. He needed a dummy for a long time to help calm him. Don't be sad for him though, he's one of the lucky shooting orphans – he was handed into a wildlife group, instead of being stomped on, having his head bashed in or being left to die alone. Interestingly, everything changed for Rufus when he started going bush. He had a growth spurt, his confidence grew and he became a normal, happy young kangaroo. You've come so far Rufus, we're very proud.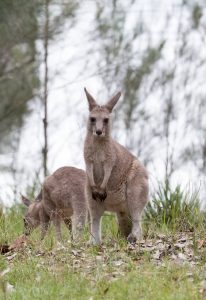 Mars

Released June 2018
Mars was almost always ready for release. He arrived an older 3.2kg joey in October 2017, when found alone at Merry Beach Caravan Park, with no mother in sight. Already somewhat bush savvy, Mars was one of the first to show an interest in returning to the bush and was often taking off with Maple and Autumn as he got older. A picture of health in care, confident and brave, a lover, not a fighter. Mars loved milk comas and loved to be loved, until he suddenly became a teenager, wanting human interaction for food reasons only. He will thrive out there.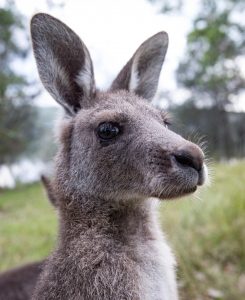 Autumn

Released June 2018
Autumn was found alone in a golf bunker. Furless and standing long before she should have been, at just 1.2kg. That courage remained when she arrived here in Aug 2017 at 2.5kg. She's always been bold and brave, except the one time she thought her best buddy Maple had been taken away (she was at the vet). Naughty-Auti loved trying to steal everyone else's bottles and grew to be a big girl, standing taller and heavier than most of her peers. She's now out in the bush daily, always with Maple by her side.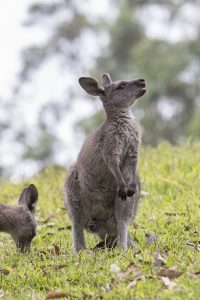 Maple

Released June 2018
Maple was orphaned due to a car accident in June 2017 when she was six months old. She arrived at W2F several months later in August, after being in care elsewhere with Storm, Lily and her best buddy Autumn. Soon after arriving, Maple broke her leg when getting out of her pouch for a bottle, but thanks to Southern Cross Wildlife Vets, Maple can hop perfectly again now. She's always been mature, being the first in the O-Mob to refuse a pouch and one of the first to decide to soft-release herself, along with her best buddy Autumn of course.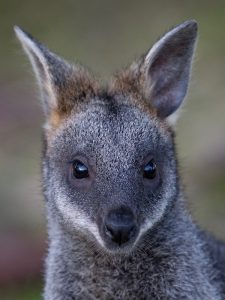 JoJo

Released June 2018
Car accident orphan JoJo, arrived in early Jan 2018, after being in care illegally with a well-meaning family who loved her, but knew it was time to surrender her. Like all wallabies, she was a bundle of trouble and mischief and had no health issues for the short time she remained in care here. She now spends her days fossicking and sleeping in the bush, and at night she likes to come back to the house to grab some snacks with the Eastern Grey Kangaroos, who mostly just ignore her.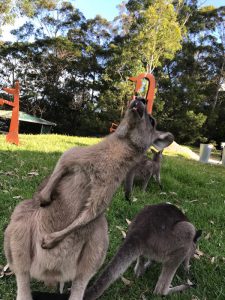 Buzz

Released Mar 2018
Illness orphan Buzz, from Bawley Point, arrived into care as a wild 4kg joey. He was big then and he's huge now. At around 15kg he started spending his afternoons in the area the older roos came back to at dusk "waiting for his mates". Soon, he stopped waiting and joined them, becoming part of the older mob. A delight in care, never sick and always happy. He's thriving back in the wild where he belongs.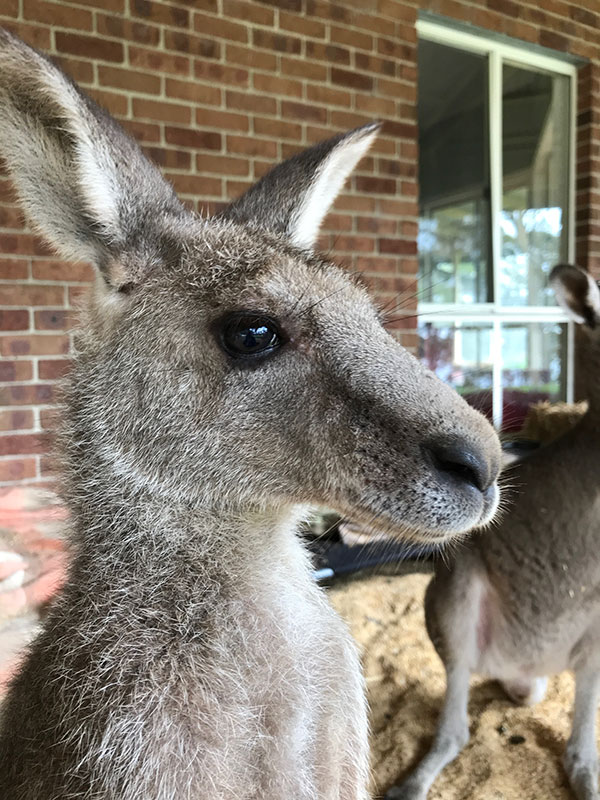 Bruce Almighty

Released Nov 2017
Bruce arrived in April 2017, as a 1.9kg joey, orphaned when his mother was killed by a car. He was ejected from the pouch and survived with just a few scrapes on his tail and feet. He suffered illness (loss of gut lining) and an internal injury whilst in care, but you wouldn't know it now. He still loves to get some attention when he returns at dusk for a feed, and is learning to be an adult by sparring with Scratch.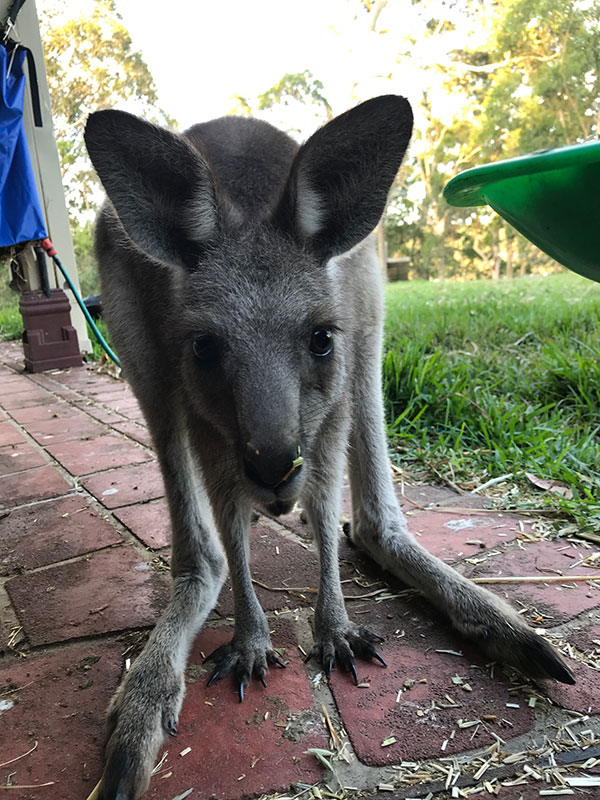 Winnie

Released Nov 2017
Winnie was a late addition to the P-Mob, arriving as a shooting orphan at 7kg, when spotted climbing back into her deceased mother's pouch. A slow and steady rehab saw her thrive and she was only in care for a few months before she was back in the wild, safe on this property, far away from shooters. She has a new family now, and she is safe from shooters forever.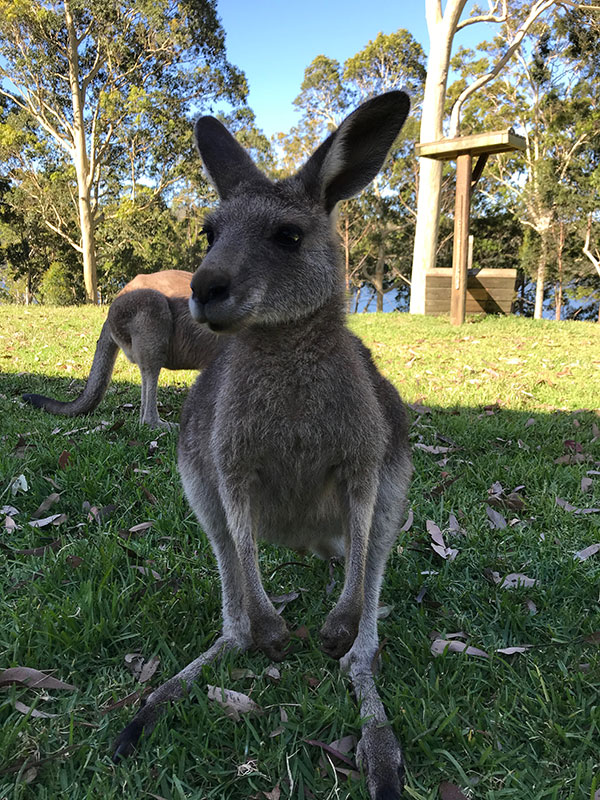 Scratch

Released Nov 2017
Not so little Scratch has grown into quite the strong kangaroo. Arriving as an older 4kg rescue, who took some time to settle into care. Once trust was finally established, he just loved to get as many scratches and pats as possible. It's sometimes hard to recognise him out there, as he has become a typical looking kangaroo – and that's perfectly fine with us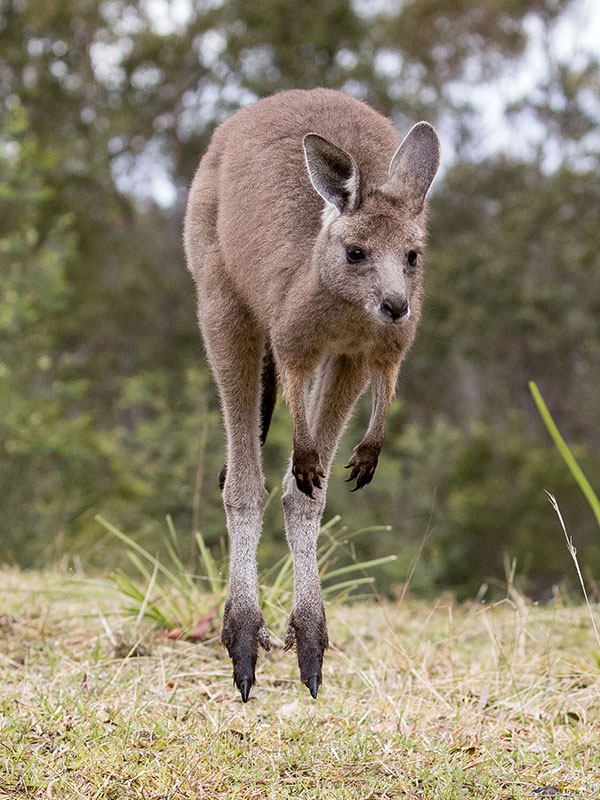 Pocket the Rocket
Released Nov 2017
Little Pocket lived up to her name. She arrived with only the finest smattering of fur at 1.4kg with a huge thymus gland, which indicates good immunity from her mother. Always smart and confident, she became the leader of the P-Mob and has also cemented a strong friendship with the previously released K-Mob.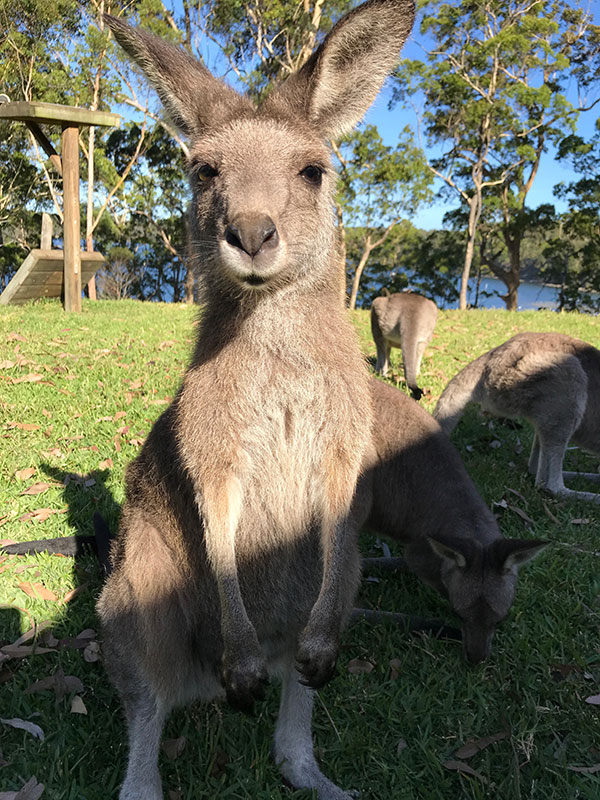 Maxi
Released Nov 2017
The one joey who truly belongs here, having been found alone weighing 1.7kg at a property close by, in January 2017. Maxi is probably related to most of the wild kangaroos here. She was a real sook for her pouch when she was young, but now she's a beautiful strong and tall kangaroo. NB: Several months after soft-release, Maxi returned to the house to let us know she was very ill. Although she received treatment, it was too late and she passed away. To read more, please refer to the 'In Memoriam' page.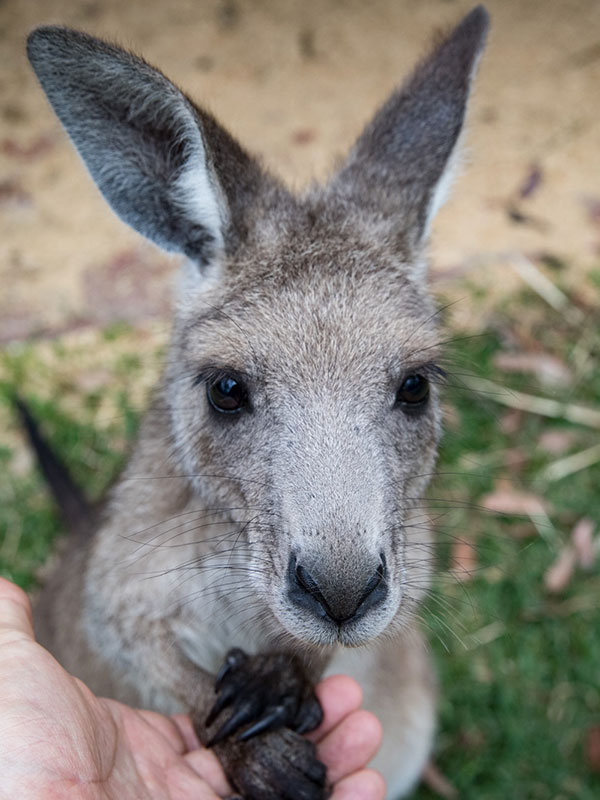 Marian
Released Aug 2017
Marian (or Crocodile as we call her), arrived direct to us after losing her mum in a car collision. She was 'out of season' and never had a buddy of her own. Once she was old enough, we integrated her with the K-Mob. It was the right decision and she thrived as a result. She suffered a couple of non-serious short term injuries on rescue and in care, that were sorted within days. She's strong, confident and very happy.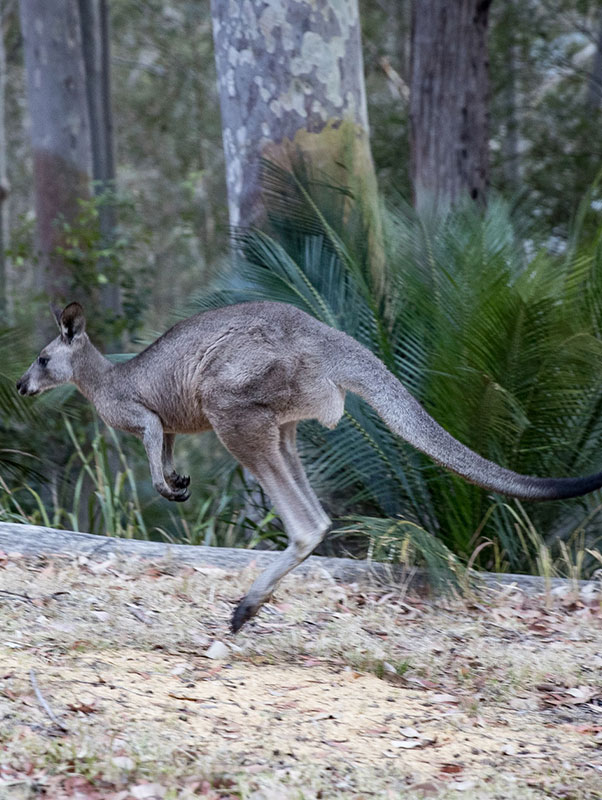 Jake
Released Aug 2017
Along with buddy Honey, Jake arrived here in late Jan 2017 after being in care elsewhere prior. He was rescued after being ejected from the pouch on impact, when his mother was hit by a car. Jake flies more solo than the rest, and spends his spare time trying to procreate with any female available. He is strong and muscular. He wants to be king, but Kanku is tougher.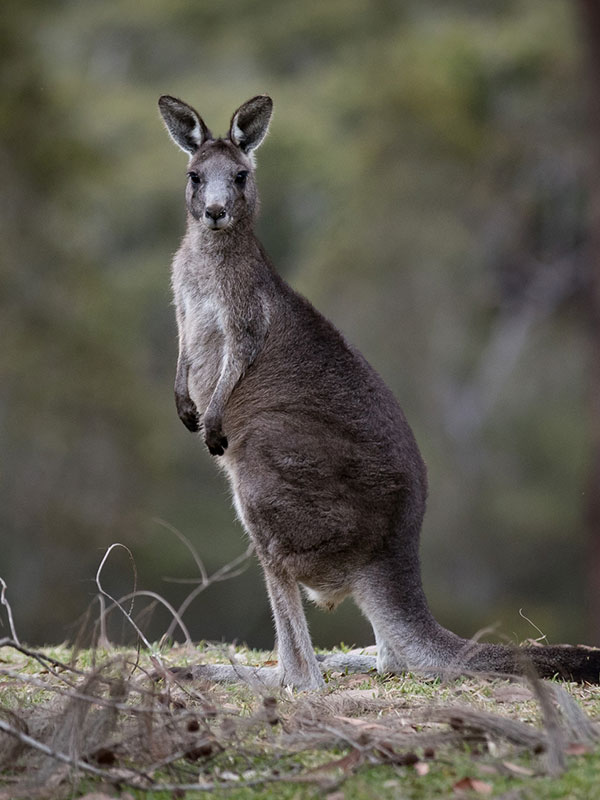 Honey
Released Aug 2017
Honey Darlin' moved here in late Jan 2017 after being in care with her buddy Jake elsewhere prior, when found alone on rescue. Honey enjoyed her time in care, mostly because it involved bottles of milk. She had a clean bill of health the entire time. She spends most of her day hanging with Clover and Marian, and doing whatever Clover wants to do. It's now May 2018 and Honey has a joey of her own to care for.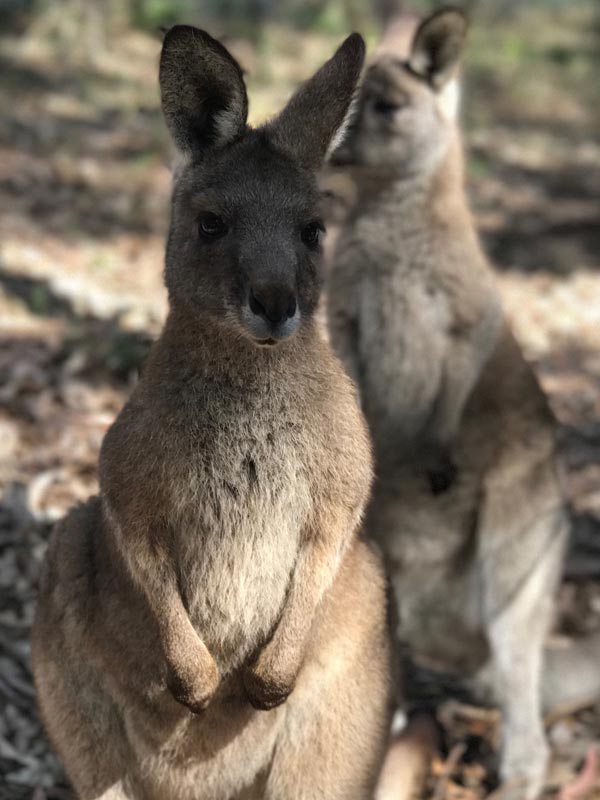 Kanku

Released Aug 2017
Our beloved Kanku and his buddy Kirri arrived here with their previous carers in Dec 2017 when they were just 4kg – his mum died when caught up on a fence. We feared Kanks would lose his top position in the mob when he became very sick for 3 weeks, back in June 2017, but he got back up again and was quick to remind Jake that he is boss. We're lucky he is, as Kanku appears to have all the quality traits required to look after his mob perfectly.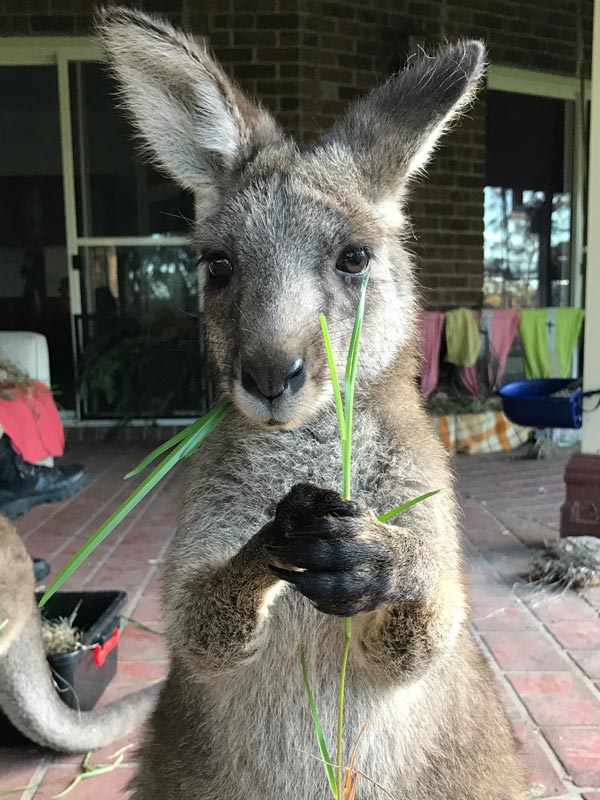 Kirri
Released Aug 2017
Dog attack orphan Kirri, is the tomboy of the K-Mob and loves sparring with Jake and Kanku. She is never far away from her buddy Kanku and is very loyal to him. She didn't call in sick for roo duty once whilst in care and remains healthy and strong. She's not one we can allow near small joeys, as she sees them as a threat to her own offspring, as she becomes more wild. It's now May 2018 and Kirri has a joey of her own to care for.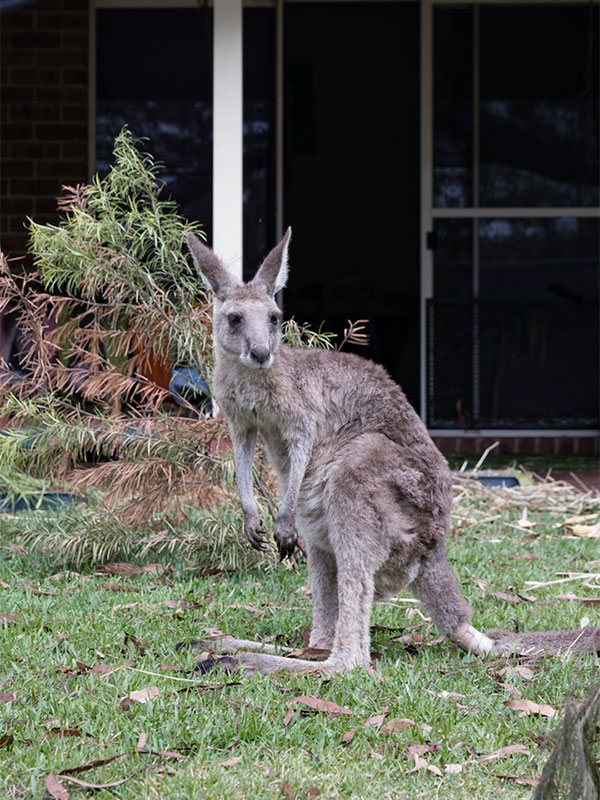 Riley

Released Aug 2017
Mr. Riley came in with suspected congenital issues and saw the vet a few times during his time in care. He failed to thrive as well as his mob buddies, but he eats, drinks, hops and plays normally. He just doesn't put on weight as quickly as everyone else. He is incredibly happy living here all the same, and loves having a go at any other 'roo getting near his food. We suspect it will take a little longer for Riley to stop wanting support food at the house, but that's okay, whenever he's ready is fine with us.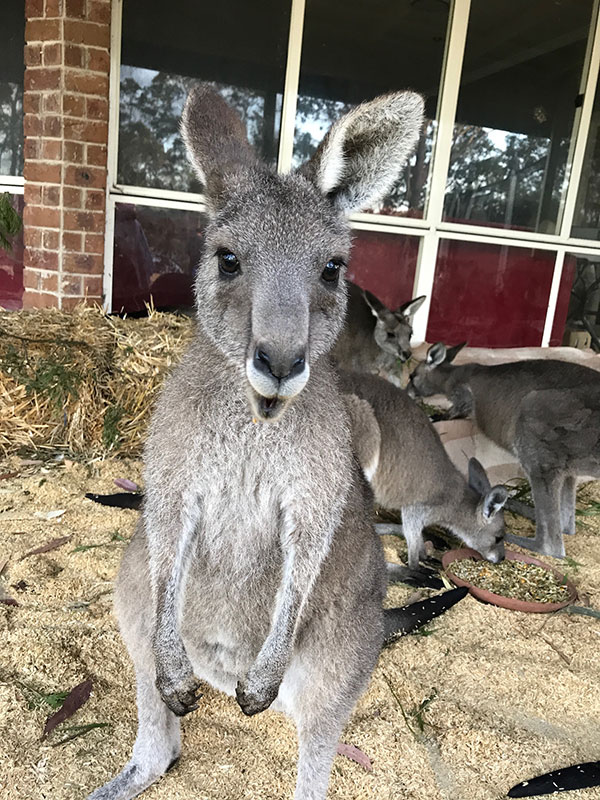 Clover

Released Aug 2017
Along with her buddy Riley, Clover the Plover was the first Eastern Grey to come into care here in Nov 2016, after being found alone in Aug 2016. She had one vet visit for a mouth infection, but otherwise remained in perfect health. She spends most of her time hanging with Honey and Marian as the mob matriarch. It's now May 2018 and Clover is raising her first joey, fathered by Jake.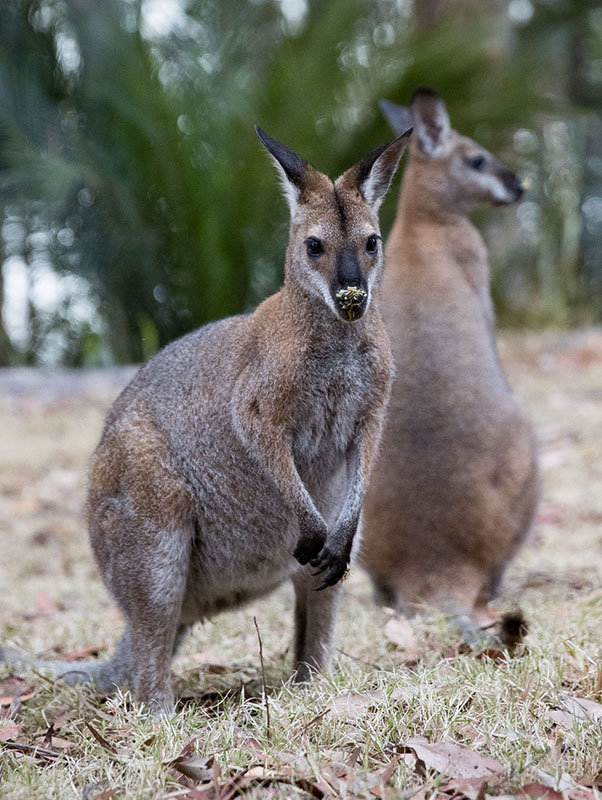 Jude & Jarrah
Released May 2017
Red-Necked Wallabies Jude and Jarrah arrived here for soft-release in March 2017 and the gates to freedom were opened six weeks later. They're often found waiting in the release enclosure, in hope for some tasty snacks. We continue to provide fresh water and food (in limited amounts) while they make the gradual adjustment to becoming completely wild animals. We've seen the pair investigating all over the property, so hopefully they'll make the break soon. They'll probably decide to live on the land here permanently, as the pasture and natural bush provides everything they need to survive.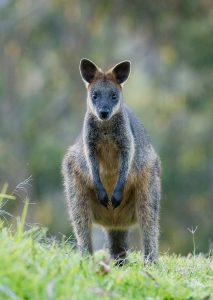 Jules
Released Jan 2017
Jules, a swamp wallaby, was soft-released alongside her buddy Lola, in January 2017. She was very timid on arrival and hid away from us. After the gates to freedom were opened, Jules decided to make this property her home. She mostly lives in the bush here, but ever the opportunist, she sneaks out at dusk to steal food from the animals in care. She also likes showing the wild wallabies where to steal snacks from – perhaps one of them is her potential suitor! We're very fond of Jules, though we never touch her, because she still needs to learn to become completely independent and wild. She's getting there… slowly.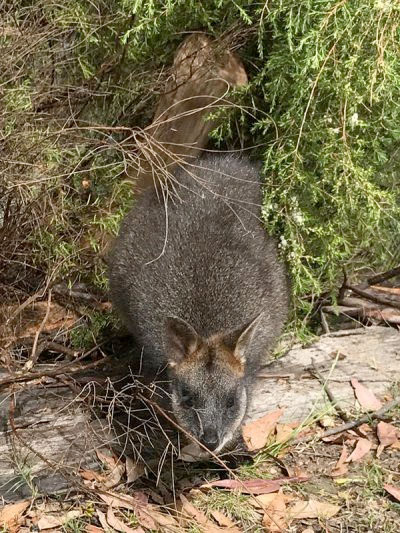 Lola
Released Jan 2017
Lola, a swamp wallaby, was soft-released here alongside her buddy Jules, in January 2017. She was very friendly on arrival, but adapted quickly to becoming a wild animal. At first, she struggled and we discovered her quite distressed, outside the house trying to find food and water. Soon after, she got her wild on and now we only see flashes of her. She appears to be living mostly on the 100-acre conservation property next door.
Your contribution will help rescue, rehabilitate and release more orphaned and injured native wildlife in need.