SPONSOR A JOEY
Sponsor a joey and help pay for their milk, supplementary feed, bedding and medical needs. Did you know it costs an average of around $1,500 to raise one healthy joey to release age?
Most of our kangaroos are in care for around 12 months before being soft-released. You will be informed when they've moved permanently back into the wild. Luckily, as a release site, there's a good chance you'll see photos of the kangaroos long after they're no longer in care too!
You will receive a sponsorship certificate, social media jpegs and a monthly email update with photos, written from your joey's perspective. We would love to offer exclusive sponsorships, however it's too much to ask, for any one person to cover the costs involved. Instead we offer multiple sponsorships at more affordable prices. If you are interested in exclusive sponsorship, please contact us directly.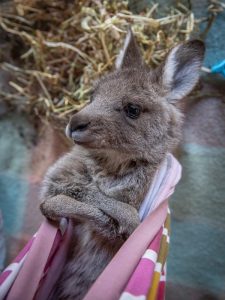 Angel

Fence Hanger Orphan
Angel arrived as a 9-month old, after her mother sustained serious injury during a fence entanglement. She was out of her mother's pouch for hours before rescue and now loves the security of her pouch here. She loves her dummy and will only let it out of her mouth during bottle feeds. Angel is exclusively sponsored courtesy of The Angel Fund.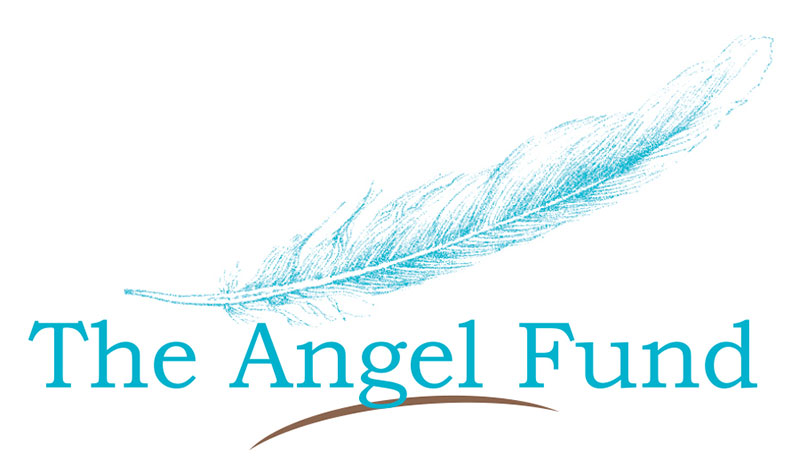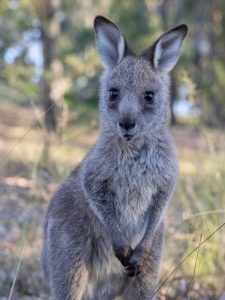 Benson

$20/month
Road Accident Orphan
A lady walking her dog in Nelligen, discovered Benson's nose poking out of his mother's pouch as she walked past his mother, already deceased  hours earlier from a car accident. Rescued directly by us shortly after, Benson has settled into his new life extremely well now he's over the initial shock. He loves his milk and is already confident enough to hop out of his pouch all the time. He loves inviting himself into other joeys' pouches as well.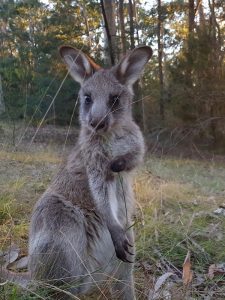 Boris

$20/month
Road Accident Orphan
Boris arrived as an older 9-month old 3.8kg joey, when his mother was hit by a car and killed down near Merimbula. Originally rescued by WIRES SE Branch, he was transferred to us the following day, due to there not being others a similar age in care there. He comes in as a buddy for Angel and is adjusting well t his new life. He loves to be cuddled and receive face pats.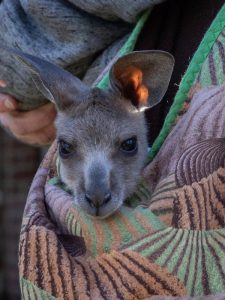 Grace

$20/month
Found Alone
Grace was found alone, cold and dirty on the ground. Her mother was nowhere in sight. Lucky for her, she was found and taken to a vet, who warmed her back up and saved her life. Most likely, her mother accidentally dropped her when she got a fright and took off. She is now 8-months old and is full of grace as her name suggests.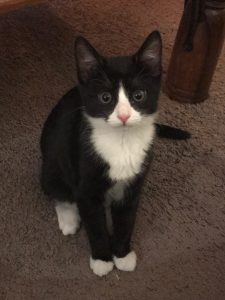 Illy
$20/month
Found Alone
It's rather obvious that Illy the Kitty is not a joey. She was found alone, at just 188 grams and nine days old, after (we suspect), her feral mother got a fright and moved her litter, leaving poor Illy on her own. We open our hearts for all animals, so if you want to know her a little better, and contribute towards her eventual de-sexing, vaccinations, microchipping and vet bills, she is sure to give you loads of pleasure with her kitten antics.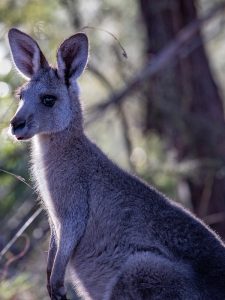 Joe
$20/month
Road Accident Orphan
Joe arrived at approximately 17-months old, when he was surrendered by a local family who raised him previously. He will be in care for as long as he needs to be, while he learns all the skills he needs to be a wild kangaroo. Joe loves hanging outside the house, and scoffing his special snacks. Please note: It is illegal to raise native wildlife in NSW without a license, they do require specialist care.
Mike

$20/month
Road Accident Orphan
Mike's mother was accidentally killed by a car in Ulladulla, but lucky for him, the driver cared enough to stop and check her pouch, saving his life in the process. Mike is a new arrival and 7.5 months old. Like all smaller ones, nothing matters in his life more than his bottle. He has no fear getting out of the pouch to get to it either.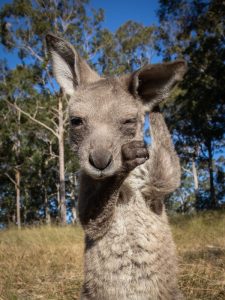 Penny

$20/month
Road Accident Orphan
Penny was ejected from Mum's pouch on impact and spent an hour scraping her claws on the gravel, trying to get back in, which would have been terrifying for her. She's 8 1/2 months old and loves her bottle and milk coma pats. She's becoming very brave, getting out of her pouch often now.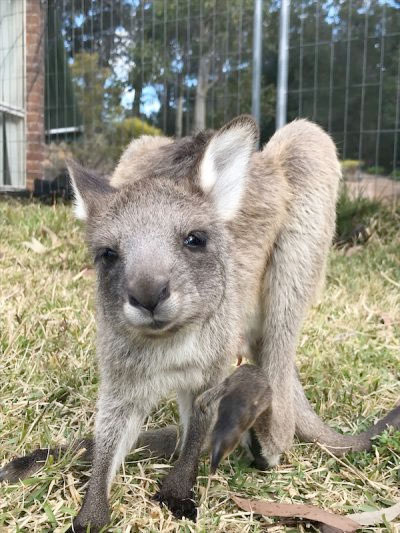 Tyson
$20/month
Road Accident Orphan
What a brave boy Tyson is. A rescuer spent a lot of time looking for Tyson, when his mother was discovered on the road, but he had disappeared. More than 24-hours later, he was found alone, close to where his mother had been hit. At just 9-months old, Tyson had survived an entire day and night on his own. Interestingly, he settled into care immediately, perhaps grateful to receive warmth and comfort again.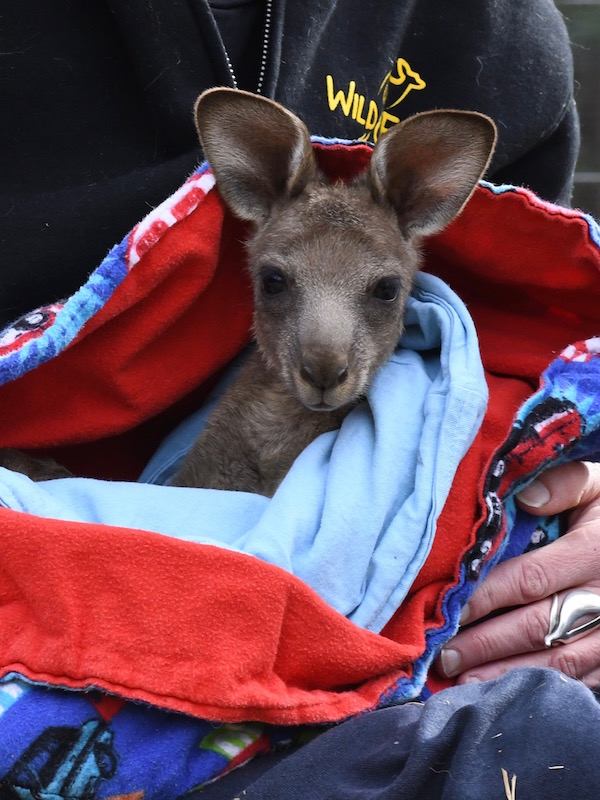 Yogi

$20/month
Road Accident Orphan
Yogi Bear arrived 10 days after his buddy Mike. He's 5 days younger and weighed just 5 grams less. He settled into care very quickly with Mike's help and was shyly enjoying snacks whilst hiding in his pouch on his first day here! He's from Yowrie Road, the same road our other property was where the house burnt down. That makes him a little special. He has stunningly long dark eyelashes. He's a cutie!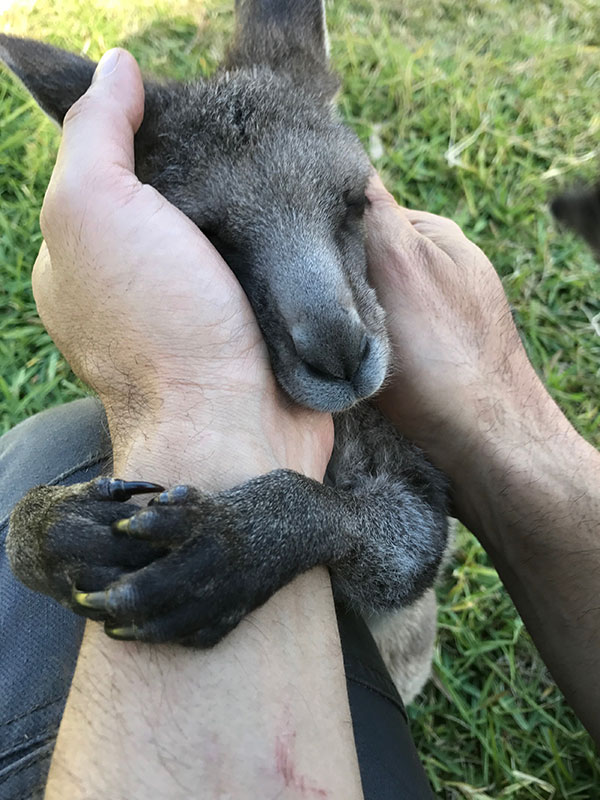 Wild2Free

$100/month
Sponsor Us!
There are many costs not directly related to feeding animals. Things like enclosures, shade cloth, admin, utilities, cleaning and laundry hygiene. Sponsor us and we'll add your business logo or personal name to our website and a big thank you on our Facebook and Instagram pages. You'll also receive a sponsorship certificate and a monthly email update from us.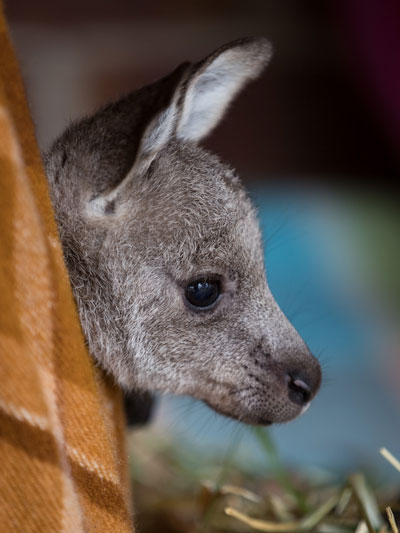 Your Choice

$20/month or $200
Sponsor a Joey as a Gift
You can now sponsor a Joey as a gift for a loved one. The cost is either $20 monthly until they're released, or a $200 one-off payment. Simply email us HERE and let us know the name of the joey you would like to sponsor, your loved one's name and their email address.
You can also use this option if you would like to sponsor a joey for yourself, with a one-time payment.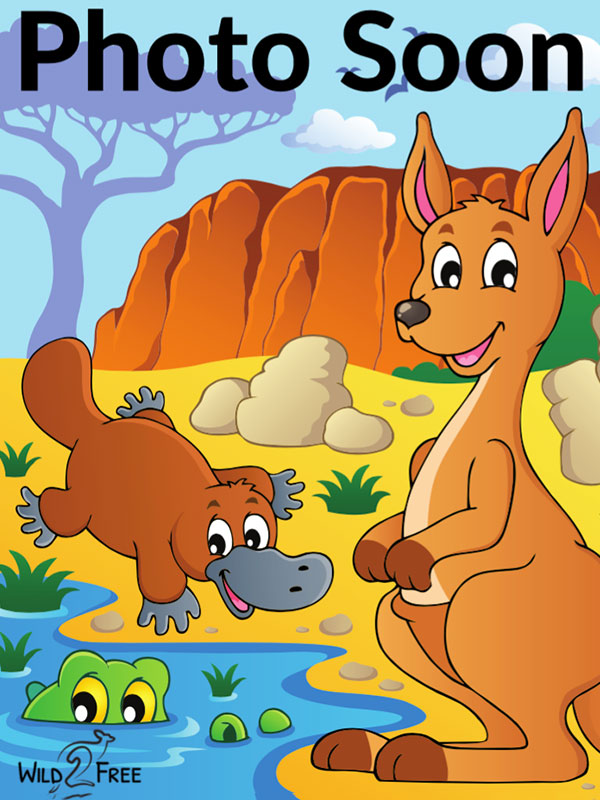 TBA 1

$20/month
Info to come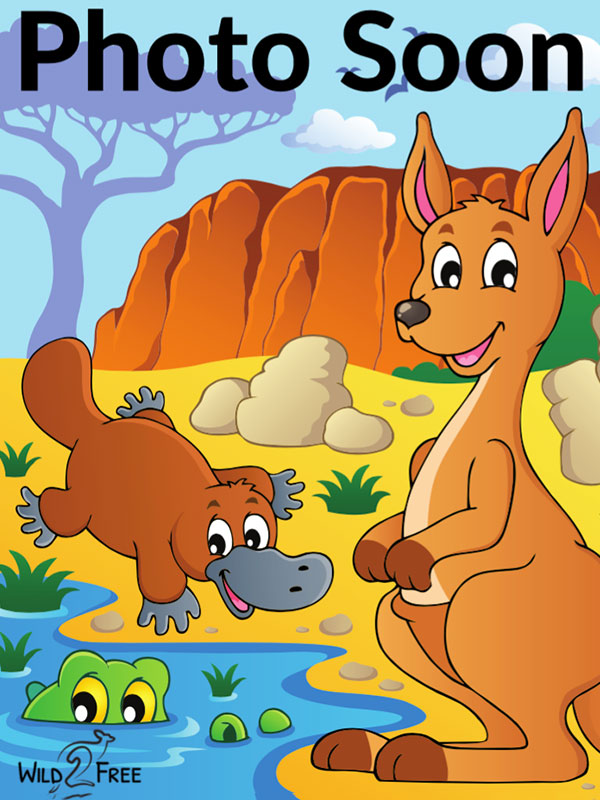 TBA 2

$20/month
Info to come