MEET THE MOB
Once featured here, were 60 or so kangaroos and wallabies who have been in care with us from Nov 2016 to Dec 2019, as well as all the joeys born to them. Since the bushfire on NYE 2019 destroyed the sanctuary, it's better to not focus on those past and present, and offer up instead, just 8 of the many  healthy ex-orphan kangaroos, who still live on the property and probably always will. It's THEIR choice whether to move on to other places or stay around here, and this crew have been nominated as the most likely, to continue living here until old age.
Would you like to Support a Roo, either for yourself or as a wonderful gift for a friend or loved one? For a one-time donation of $50, we'll email you a supporter certificate and a fact sheet on your chosen roo. Simply click on the button below and add a note to tell us which roo you would like to support, and the name for the certificate if it's not your own.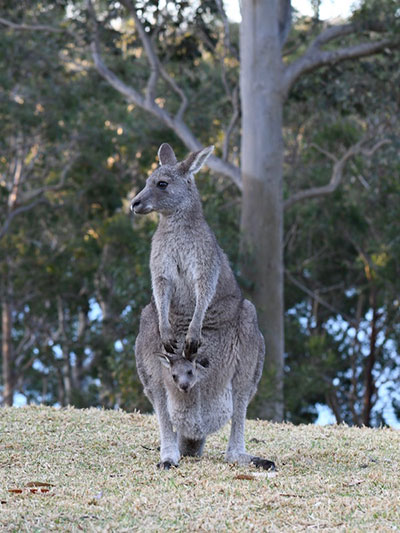 Clover

NICKNAME: Clover the Plover
DOB: 20 December 2015
ORPHANED: Found alone
FROM: Jervis Bay
STATUS: Released 2016
FACTS: Mother to Elsie and Clyde (both fire survivors). Clover aborted her 3-month old female joey a week after the fire, unable to provide care to herself and a dependent. Aunty Lily adopted her son Clyde. Elsie was old enough to fall pregnant herself (to Kanku). Clover returned to care in March 2020, to recover from more extensive burns. 3.5 months after the fire, she began hopping again and is now living on the land again.
Jess

NICKNAME: Jess-ico
DOB: 01 December 2016
ORPHANED: Car accident (broken foot)
FROM: Tomerong
STATUS: Released 2018
FACTS: Jess didn't succeed with her first joey, and was the first ex-orphan kangaroo to lose one (reasons unknown) when the joey was around six months old. As of March 2020, her pouch is occupied once more. Jess suffered burnt feet from the fire, but recovered quickly. She was only bandaged once, after showing a preference to standing in the salt water of the mud flats to heal. It worked and she's back to normal and loving life again.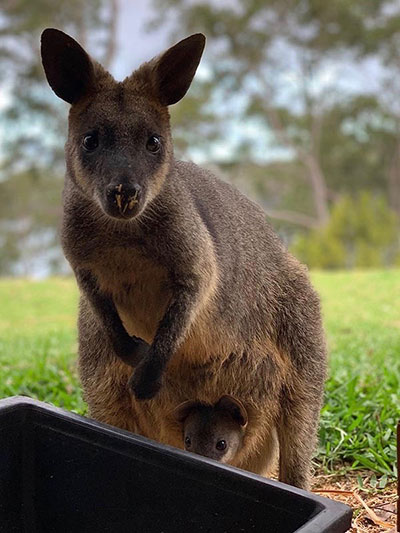 Jules

NICKNAME: Juuuuules (it's all in the tone)
DOB: 27 December 2015
ORPHANED: Car accident
FROM: Narooma
STATUS: Released 2017
FACTS: Jules is a swamp wallaby. Unlike kangaroos, who are mob animals, Jules lives a solo life in the bush, meeting up with a resident male when required. She has not yet been successful, in rearing a joey to adulthood. She is only ever seen when times are tough and she needs a little extra feed support. Jules survived the fire without injury.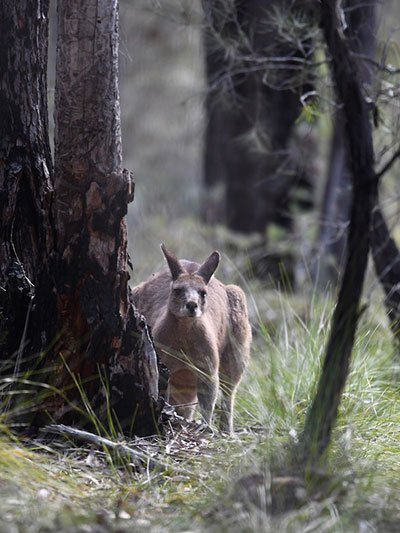 Kanku

NICKNAME: Kanks, Kanky-Boy
DOB: 14 January 2016
ORPHANED: Fence Entanglement (mother)
FROM: Sanctuary Point
STATUS: Released 2017
FACTS: The alpha of the mob is Kanku. He's not the alpha of the land though, there's a bigger male in the back paddocks who says so. Kanku doesn't mind, and looks after his motley crew of ex-orphans like they were his own family and many of the younger wild joeys are his children. Kanku survived the fire without injury and protected the survivors fiercely when anyone approached in the days following the disaster. He's our legend and roo hero.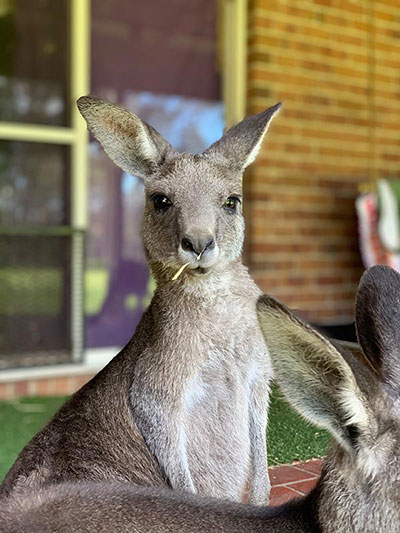 Lily

NICKNAME: Lil-ley, Lil-ley (it's all in the tone)
DOB: 24 November 2016
ORPHANED: Car accident (head wounds)
FROM: Falls Creek
STATUS: Released 2018
FACTS: Lily is small but very tough #dontmesswithlily. She's the matriarch to the younger joeys here and survived the fire, however her first-born Holly, has not been sighted since. She adopted Clover's son Clyde and cared for him and fed ex-orphan Bo whenever he asked. She survived without injury from the fire and continues to be a much-adored special girl.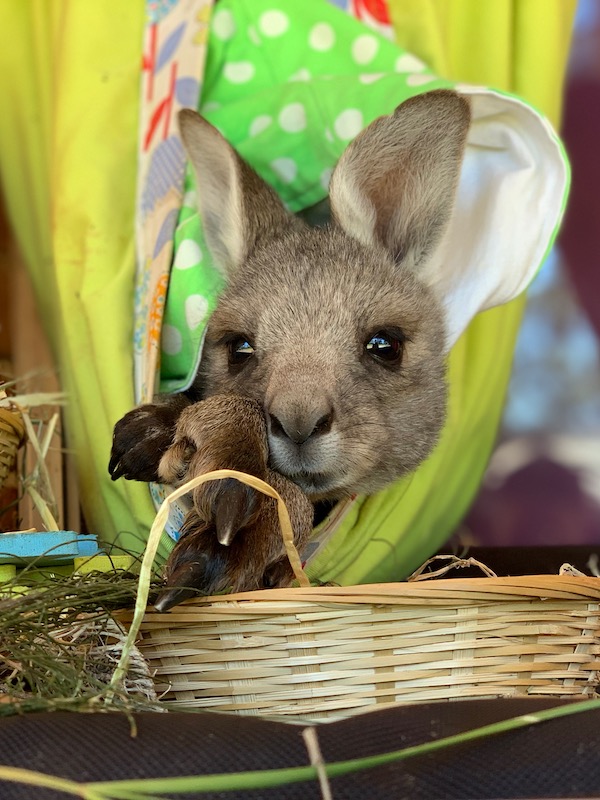 Morty

NICKNAME: Naughty Morty
DOB: 1 July 2018
ORPHANED: Shooting
FROM: Potato Point
STATUS: Released 2019
FACTS: Morty showed alpha-male tendencies and quick learning ability very early in life – he was drinking water from a bowl without encouragement, at just 2kg! He looked after his mini-mob until release and is lieutenant to Kanku. It appears he was with Minnie when bushfire struck, as both were side by side at all times immediately after and like Minnie, he had minor burns that did not require treatment.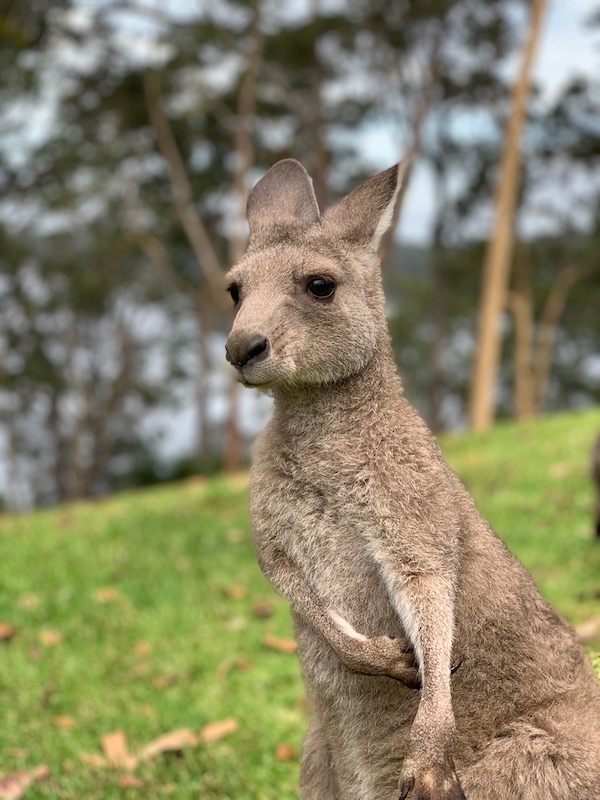 Penny

NICKNAME: Penny x 9
DOB: 9 Oct 2017
ORPHANED: Car Accident
FROM: East Lynne
STATUS: Released 2019
FACTS: What a life experience Penny has had. A high-stress rescue situation, TWO dislocated feet on her 1st birthday requiring 5 months special care and 7 vet visits to Dr Howard Ralph at Southern Cross Wildlife Care, a bushfire (in which she suffered VERY minor burns on her feet), and now she's carrying her first-born (father Brutus). She's a high stress roo (always was), and will kick and attack any other roo or human who comes close, while she protects her pouch young. She's thriving.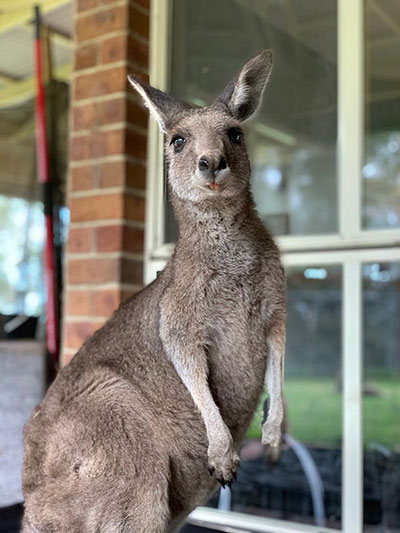 Venus

NICKNAME: Kissy Face
DOB: 07 March 2017
ORPHANED: Shooting orphan, about to be an eagle's dinner
FROM: Bodalla
STATUS: Released 2018
FACTS: Venus is an obsessive one. In care she was first obsessed with licking humans, then she became obsessed with eating ticks and flat flies. Now, she's obsessed with eating almonds. She thinks nothing of waiting at the house door to demand them, and will follow you around to get more. She and her son Caesar survived the fire without injury.
Your contribution will help rescue, rehabilitate and release more orphaned and injured native wildlife in need.