MEET THE MOB
Once featured here, were many kangaroos still living here after being raised by Rae (also an authorised carer for Wildlife Rescue South Coast) and released at W2F. Since the Black Summer Bushfire on NYE 2020, which destroyed the sanctuary, it's better to not focus on those past and whilst many did survive and still live here, we decided to focus on just 8 of the ones we see regularly. It's THEIR choice whether to move on to other places or stay around here, and this crew have been nominated as the most likely, to continue living here until old age.
Would you like to Support a Roo, either for yourself or as a wonderful gift for a friend or loved one? For a one-time donation of $50, we'll email you a supporter certificate and a fact sheet on your chosen kangaroo. Simply click on the button below and add a note to tell us which roo you would like to support, and the name for the certificate if it's not your own.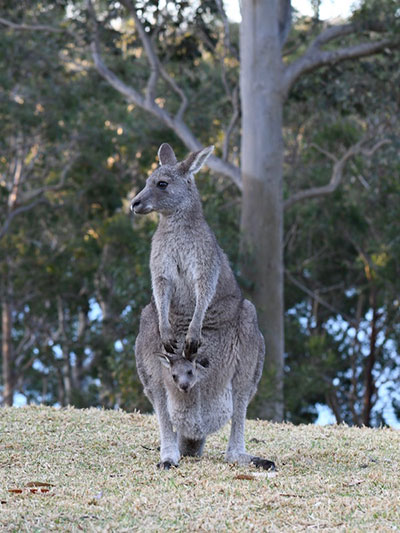 Clover

NICKNAME: Clover the Plover
DOB: 20 December 2015
ORPHANED: Found alone
FROM: Jervis Bay
STATUS: Released 2017
FACTS: Mother to Elsie and Clyde (both fire survivors). Clover aborted her 3-month old female joey a week after the fire, unable to provide care to herself and a dependent. Aunty Lily adopted her son Clyde. Elsie was old enough to fall pregnant herself (to Kanku). Clover returned to care in March 2020, to recover from more extensive burns. 3.5 months after the fire, she began hopping again and is now living on the land again. She has a new joey in the pouch.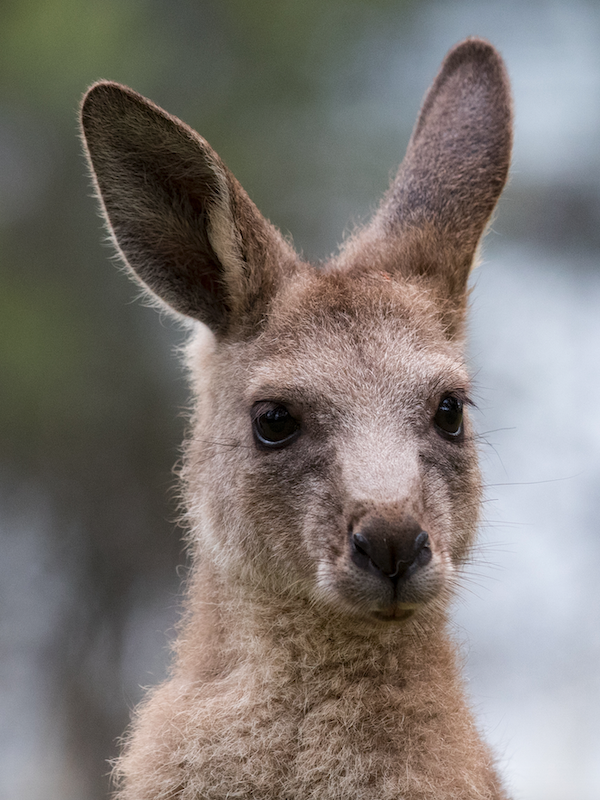 Brutus

NICKNAME: Be Still My Beating Heart, it's Brutus
DOB: 18 March 2017
ORPHANED: Found Alone
FROM: Bawley Point
STATUS: Released 2018
FACTS: Handsome Brutus. Still young in this photo, rest assured Brutus has blossomed into a very handsome kangaroo. He also smells delicious! The female kangaroos clearly agree, given Brutus has fathered several joeys of his very own now. He's second in command to mob-boss Kanku and plays it smart to keep his position.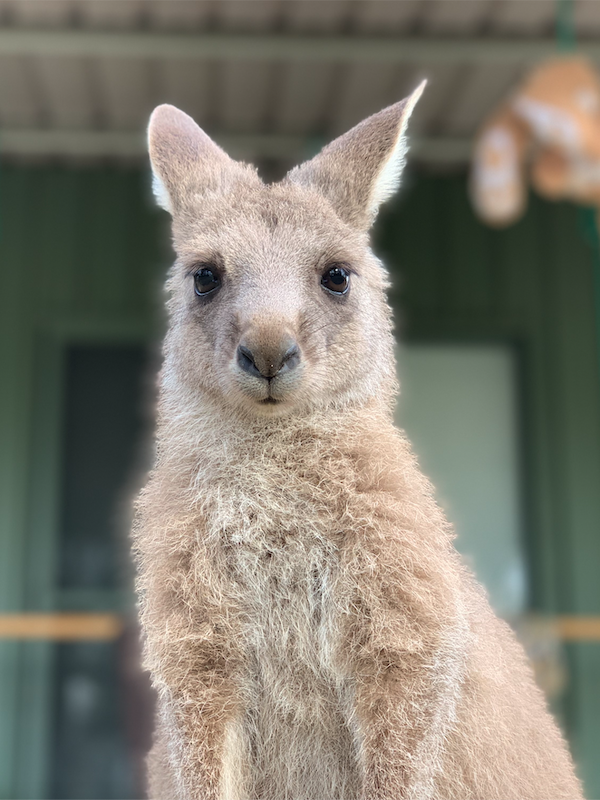 Koa

NICKNAME: Nope!
DOB: 20 May 2019
ORPHANED: Bushfire
FROM: Jeramadra
STATUS: Released 2020
FACTS: Koa lost his mother in the Black Summer Bushfire, which devastated the NSW South Coast, including us here at W2F. Koa has now ditched the human foster mum in favour of a loving new roo family. He spends his days with 'Aunty Lily' or 'Aunty Kirri'. He likes to spend his evenings hosting parties for all his friends outside the cabin he was raised from – so long as you don't mind him standing in the feed bin of course.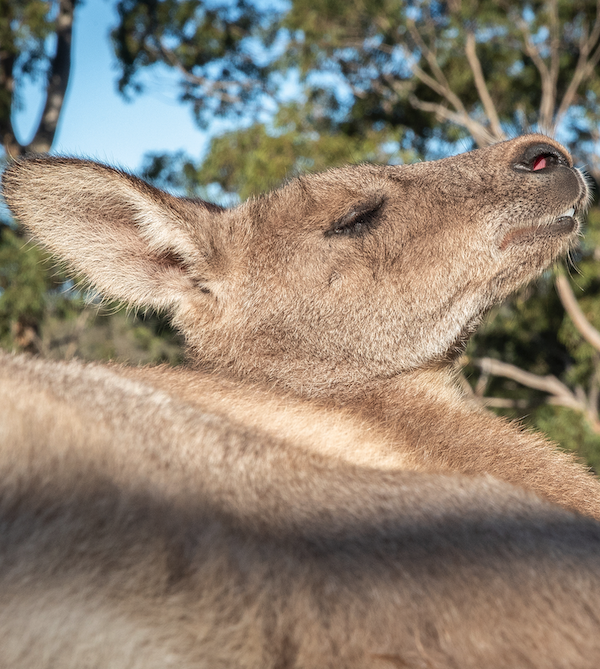 Kanku

NICKNAME: Kanks
DOB: 14 January 2016
ORPHANED: Fence Entanglement (mother)
FROM: Sanctuary Point
STATUS: Released 2017
FACTS: The alpha of the mob is Kanku. He's not the alpha of the land though, there's a bigger male in the back paddocks who says so. Kanku doesn't mind, and looks after his motley crew of ex-orphans like they were his own family and many of the younger wild joeys are his children. Kanku survived the fire without injury and protected the survivors fiercely when anyone approached in the days following the disaster. He's our legend and roo hero.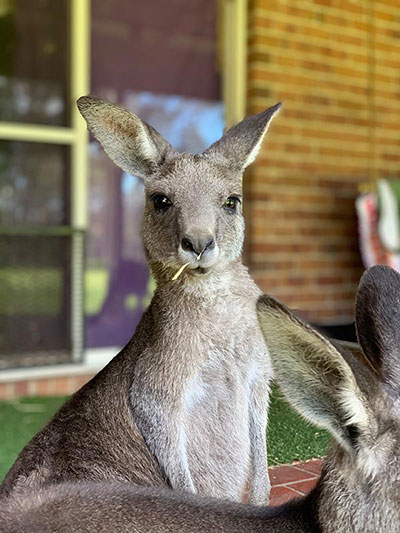 Lily

NICKNAME: Lil-ley, Lil-ley (it's all in the tone)
DOB: 24 November 2016
ORPHANED: Car accident (head wounds)
FROM: Falls Creek
STATUS: Released 2018
FACTS: Lily is small but very tough #dontmesswithlily. She's the matriarch to the younger joeys here and survived the fire, however her first-born Holly, has not been sighted since. She adopted Clover's son Clyde and cared for him and fed ex-orphan Bo (a car accident orphan from Mogo), whenever he asked – he was still on a daily bottle before the fire. Lily survived without injury and continues to be a much-adored special girl who likes to bring her son Basil to the cabin hours before the others arrive.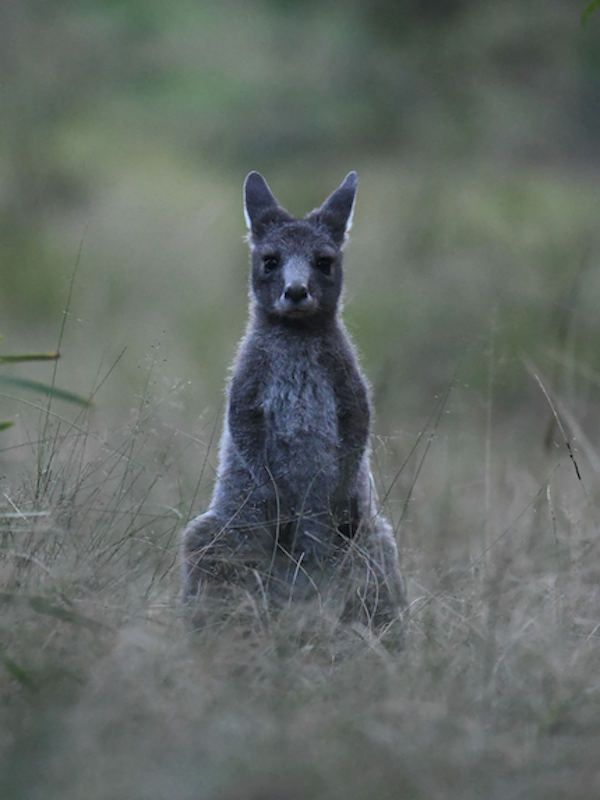 Minnie

NICKNAME: Moo Moo, Minnie Moo the Confident Roo
DOB: 28 June 2018
ORPHANED: Found Alone
FROM: Falls Creek
STATUS: Released 2019
FACTS: Minnie was a confident joey from day one in care, perhaps grateful for a warm pouch and food, having been alone for days prior to her rescue. It appears she was with Morty when bushfire struck, as both were side by side at all times immediately after and like Morty, she only had minor burns that did not require treatment. Minnie is currently caring for her first-born joey in the pouch and is spending less time around the cabin as she learns to be a mother.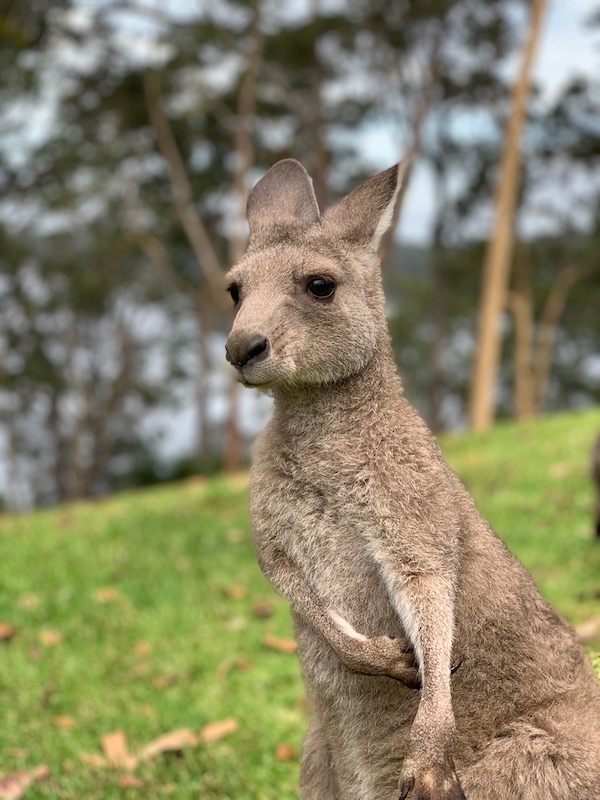 Penny

NICKNAME: Penny x 9
DOB: 9 Oct 2017
ORPHANED: Car Accident
FROM: East Lynne
STATUS: Released 2019
FACTS: What a life experience Penny has had. A high-stress rescue situation, TWO dislocated feet on her 1st birthday requiring 5 months special care and 7 vet visits to Dr Howard Ralph at Southern Cross Wildlife Care, a bushfire (in which she suffered major stress but VERY minor burns on her feet), and now she's carrying her first-born (father Brutus). She's a high stress roo (always was), and will kick and attack any other roo or human who comes close, while she protects her daughter, who now hops alongside her mother when visiting the cabin.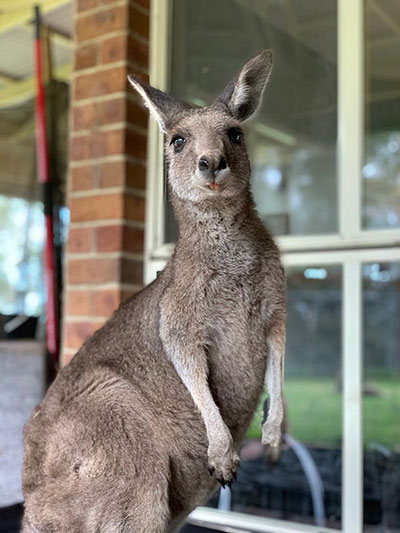 Venus

NICKNAME: Kissy Face
DOB: 07 March 2017
ORPHANED: Shooting orphan, about to be an eagle's dinner
FROM: Bodalla
STATUS: Released 2018
FACTS: Venus is an obsessive one. In care she was first obsessed with licking humans – on the lips, then she became obsessed with eating ticks and flat flies. Now, she's obsessed with eating almonds. She thinks nothing of waiting at the house door to demand them, and will follow you around to get more. Venus is quite tall, especially for a female and can get a bit bossy if an almond is on offer. She and her son Caesar survived the fire without injury. She now has a second son named Cupid.
Your contribution will help us provide care, feed, water and shelter for the mob living at W2F.